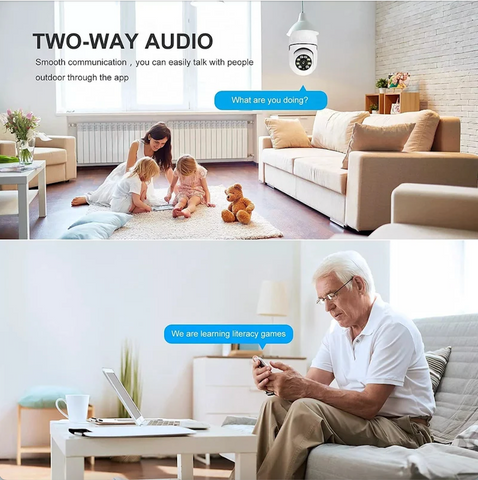 Take your security system to the next level! Monitor everything from everywhere and keep your family safe!
Allows you to record instantly when and where surveillance is required. With built-in motion detection, auto-tracking technology, infrared night vision, and two-way communication Have everything you need, all installed in seconds.
Since 2016, our security camera has been used by 250,000+ happy customers in the United States and has continued to improve its product every year.
BENEFITS OF OUR
LIGHT BULB CAMERA
Our camera can control the viewing angle through the APP, so you can access remotely and view anywhere and any time through your iPhone/Android phone/Ipad.
This camera can be installed using a normal E27 bulb base( 110V~240V),NO MORE EXTRA INSTALLATION STEPS. You just need to connect the camera system to the router, open the app to setup the camera within minutes. (manual included)
The light bulb camera can provide you with a clear vision (Full HD 1080P resolution) at any time. You can use the APP to control the camera viewing angle to achieve 360 viewing without blind spots.
The camera can provide clear and full night vision. Equip with infrared and white light, which can capture clearly even in pitch-black darkness.
Motion Detection & Real-time Alerts
With the highly sensitive motion sensor, the camera detects the movement of the object after connecting it to the Internet, it will record the moving picture and notify you through the APP.
Built-in microphone and speaker, the light bulb security camera can have a conversation between you and your visitor.