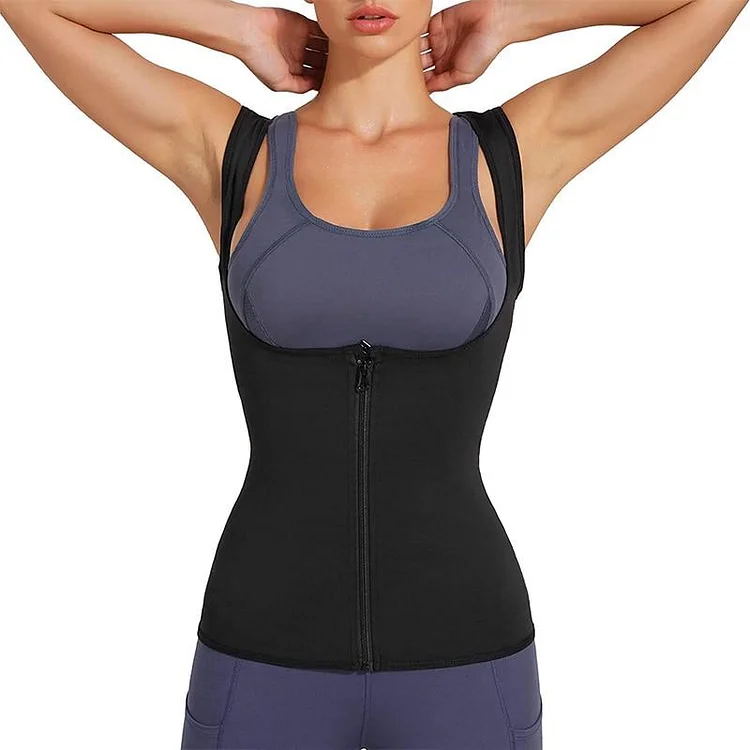 BURN CALORIES UP TO 5X FASTER
This All-new Sweat Sauna Tank Top stimulates your core temperature that enhances natural perspiration up to 5x more than ordinary gym clothes.
It Boosts your metabolism to the core, speeds up warm-up & recovery times, and burns more calories than usual. Its revolutionary design helps you achieve results faster and easier. Leaving your body in shape and slimmer.
SCIENTIFICALLY ENGINEERED:
65% Polyester, 5%Spandex, 30%Polyurethane. Consisting of two layers: the inner thermogenic polymer fabric increases your core temperate to promote sweating. The outer performance compression fabric instantly slims and shapes your figure.
You can choose to wear it underneath your clothes completely hidden with seamless body fit while inside your house doing your task or hitting in the gym, your body will burn calories with little to no effort. However, the best results apply when your body is active doing exercises.
CORE BENEFITS
Super stretchable & comfortable, it keeps your workout smooth and flexible on any activities
A high-quality zipper gives you the liberty to put it on or take it off EASILY.
Its special material increases body temperature and absorbs sweat so you're

always dry on the outside.
The two layers are an extremely

effective fabric that's breathable

performance compression fabric instantly slims and shapes your figure.

Experience a hot-sauna-like experience including many of the same scientifically-proven health benefits. E

xpedite calorie burning

, detoxification, improved immune system, enhanced blood flow, & trigger the release of endorphins, etc.)
Washable: made of advanced polyurethane inner layer that is fast drying and is made for machine washed
Scientific design and compression help you correct posture, flatten abdomen, firm tummy. Comfortable, lightweight stretchy fabric and moves with your body while performing any activity. It looks great and matches with any combination of workout shirts or can even be worn under everyday clothes.