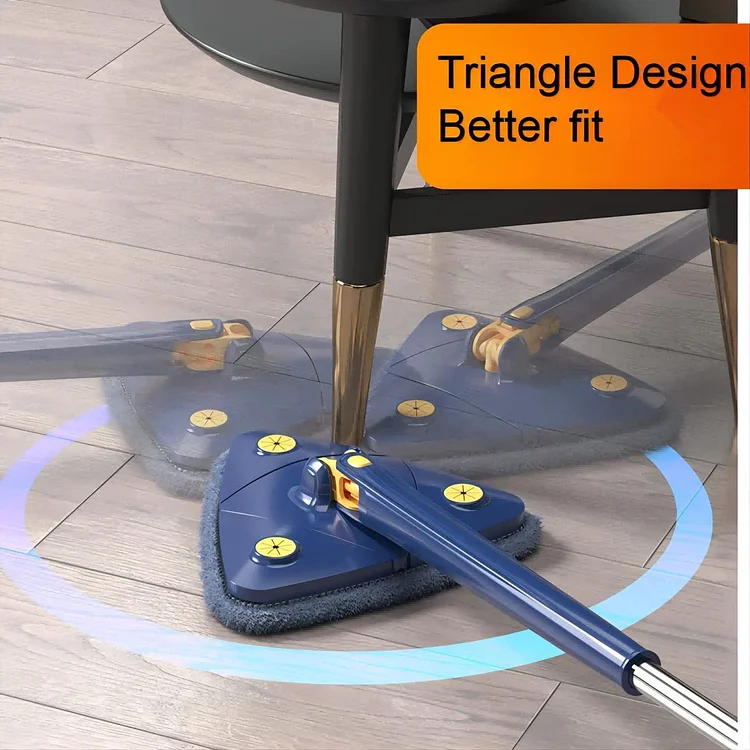 Tired Of Stubborn Dust In The Corner Of The Wall, Ceiling Or Windows?
Clean Your Home With Ease And Maximum Efficiency!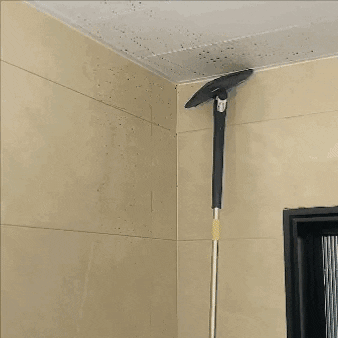 Transformed Over 1,000,000 Households Globally
Our Distantlion™ 360° Rotatable Adjustable Cleaning Mop was designed to clean windows, furniture, walls, floors, and all surfaces inaccessible with traditional mops. Made for maximum efficiency cleaning! The mop head rotates 180 degrees, and every corner of the house can be easily cleaned, including inaccessible and deep areas.
Cleaning Hard To Reach Areas Are No Longer An Obstacle
The cleaning tray adopts the latest type of triangular design, 360° rotating mop head allows you to leave no dust in the dead corner, easily solving your stubborn dust in the corner of the wall, ceiling, and window.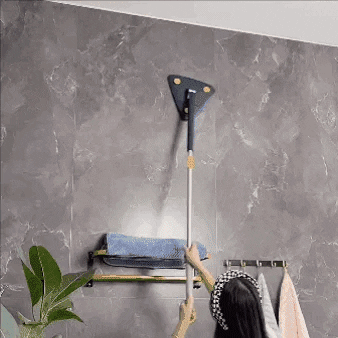 Upgrade Your Cleaning Experience & Leave No Dust Behind. Period.
The mop is equipped with thickened and encrypted microfiber mop cloth, which can quickly absorb water within 5 seconds and has superb adsorption ability, firmly locking in the dust which makes it a perfect solution for Inaccessible And Deep Areas which are Hard To Reach Areas to clean.
Hand Wash-Free With Maximum Efficiency
free your hands with our Mimic hand washing cleaning design, integrated with a push-pull automatic water squeezing function.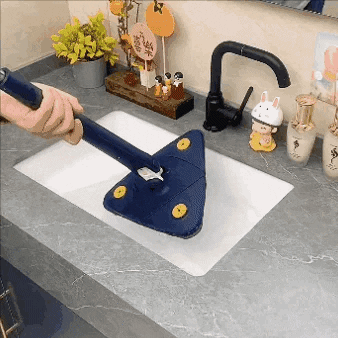 30 Day Money Back Guarantee
Still Using Your Old Mop?
Upgrade Your Cleaning Experience And Enjoy...
360° Rotatable Adjustable: The 360° Rotating Mop Head And Triangular Mop Pad Design Makes It Easy To Clean And Reach Dead Corners, Such As Sofa, Bed, Wall Corners, Ceiling Corners And Window Corners.It Can Also Be Used In Different Places And Situations, Like Walls, Baseboards, Ceilings, Counter Tops And Floors,Kitchen, Shower Room, Living Room, Bedroom And Outdoor.

Ease To Use And Maneuver: Simply Secure The Wet Mop Pads To The Bottom Of The Frame, Adjust And Lock The Handle In Place To Match Your Height, Easily Breeze Through The Most Challenging Corners, Nooks And Crannies Of Your Home. The Commercial Mop Maneuvers With A Full 360 Swivel So You Can Mop Under Furniture And Other Hard To Reach Areas.

Great For Any Floor Types: Works Efficiently For Dry Or Wet Mopping On All Hard Surface Flooring Types Including: Hardwood, Tile, Laminate, Vinyl, Stone, Concrete, & More. This Professional Microfiber Mop Kit Packs A Ton Of Floor Cleaning Power!

Removable & Washable: These Replacement Mop Pads Are Machine Washable, Reusable And Environment Friendly. You Can Reuse The Pads And Save Your Money On Unnecessary Disposable Replacement Pads. Every Time You Finish The Cleaning Work, Just Throw The Pads Into The Washing Machine.

Extremely Durable: This Pro Mop Is Up For The Challenge. You'll Feel The Great Confidence With It's Adjustable, Stainless Steel Handle Assuring That It Will Never Bend Or Break. Not Only That, The Strips That Attach To The Mop Pads On The Bottom Of The Frame Won't Peel Off After Continually Getting Wet, We Built Them Into The Mop Frame Instead Of Super Gluing Them On.
Frequently Asked Questions
Don't Just Take Our Word, Take Theirs Too!