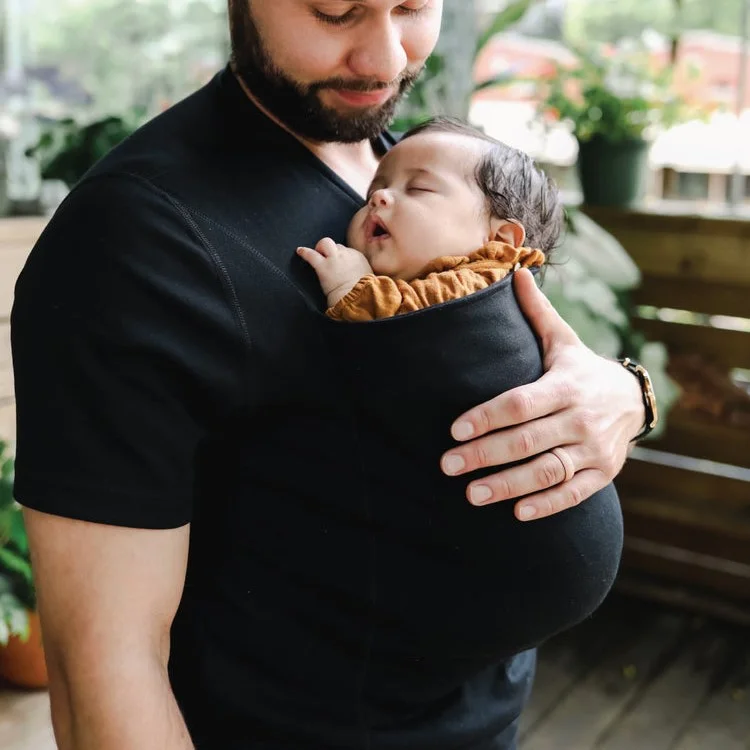 The most lovely gift for new parents!
Once inside the Huggy Shirt, your baby will be calmed by their parents's heartbeat, body rhythms and scent.
Tucked safely up against their parents's chest, most will drift to sleep or be content to observe the world around them. (It's a sight that will melt your heart!)
The Huggy Shirt is the first babywearing shirt designed exclusively for first-time parents. Our Huggy Shirt allows you to transition into babywearing with ease. No complicated wrapping or buckling here, just tuck your sweet baby into the front pouch and give yourself incredible, hands-free support. Parents can enjoy their newborns and take their baby on adventures right from the start.

The pouch safely holds your newborn up to 15lbs, the first 3 to 5 months. Our carrier is ideal for babies from 4 months up to 2 years of age.


How lt Works

Place your baby upright, tummy to tummy in the front pocket of your Shirt. Ensure they are within kissing distance and that their legs are bent frog-style under their bottom. If needed, pull the pouch extender panel around your baby's shoulders.

Size Recommend

Please pay attention! The styles and size of mom and dad shirts are different.


🌎 WORLDWIDE SHIPPING ✈

Orders usually ship within 1-4 business day. During sales and peak times there may be an extra 1-2 day delay.And We deliver your parcel within 7–15 working days.
As soon as your package has left our warehouse, you will receive a confirmation by email. This confirmation contains a tracking number that you can use to find out where your package is.