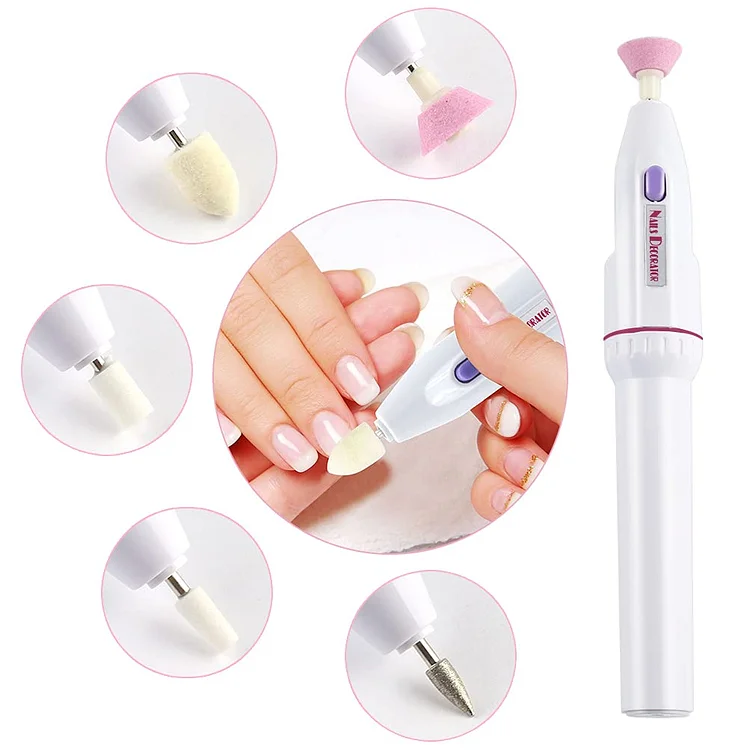 Enjoy Beauty At Home

For a Perfect Natural Shine
The manicure toenail sander is the perfect and effortless way to keep your toenails and fingernails shiny and beautiful. The 5 high-quality, interchangeable attachments allow you to remove excess cuticles or calluses, smooth dead skin and drill, file, buff, polish and shape your nails at the salon.
Compact & Portable Electric Nail Drill
The pedicure drill set comes with 5 attachments and a little bag to store it in, sized setit is compact and easy to carry on trips or even in your purse. The nail file is more like working with a double sized pen. Bring you a beautiful life anywhere you prefer.
5 Attachments of Electric Nail Kit
Chromium Corundom Grin

Flat Emery Head: Professsionally shapes nails and finishes them to a smooth gentle edge;

Felt Grinder

The Soft Felt Cone: Polish nails to a healthy shine,also use it to push back cuticles and stimulate nail bed circulation for increased nail growth;

Carborundum Grinder

The Small Grinding Cone: Helps with the rough, hard cuticles and fits perfectly in the sides of the nail,it grinds the rough spots without damaging the skin;

White Corundum Grinder

The Diamond Cone: Has been designed to remove dead skin,corns and calluses;

Sandpaper Grinding Cylinder: Use to flat and smooth extra thick nails and rippled surface.
🌎 WORLDWIDE SHIPPING ✈

Orders usually ship within 1-4 business day. During sales and peak times there may be an extra 1-2 day delay.And We deliver your parcel within 7–15 working days.
As soon as your package has left our warehouse, you will receive a confirmation by email. This confirmation contains a tracking number that you can use to find out where your package is.