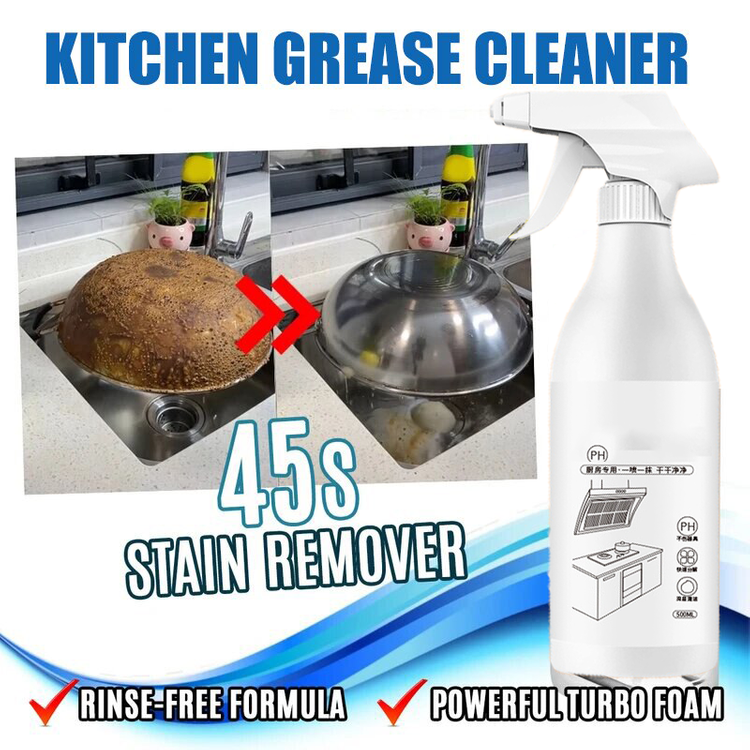 KING OF KITCHEN CLEANING 5.0
JAPANESE TECHNOLOGY FOR YOUR KITCHEN
NO.1 BEST SELLING PRODUCT IN JAPAN
Remove grease stains, long-term rust, plaque, calcium and magnesium deposits
WE HAVE WHAT YOU NEED
Only 45 seconds
to clean the stains
100% SAFE
Mild non-irritating non-irritating formula
100% ingredients are nano hypochlorite and extremely small NaOH active ingredients that help to quickly access and isolate stubborn stains, remove stains on the surface of gas stoves, induction cookers, microwave ovens, refrigerators, sinks and on appliances or kitchen utensils.


Instant effect on many materials, surfaces
Light scent extracted from lemon, brings a fresh, airy and extremely comfortable space.
Produced according to GMP1900200 from nature, when sprayed, it is foam with countless tiny particles, automatically crept into the gaps to break the adhesion bonds of stains on surfaces.
Innovate & Upgrade
Net content

: 500ml / bottle

Shelf life

: 3 years

Name

: Riser Heavy Oil Stain Cleaner

Net content

: 500ml / bottle

Shelf life

: 3 years

Ingredient

: solvents, oxidizing agents, surfactants,lemon flavor, olive oil, surfactant....

Scope of application

: Applicable to all kinds of hoods , ..glass tiles and other greasy areas
QUICK CLEANING
AND EFFORT SAVING
Oil and grease stains are really tough to remove and you trying to remove it with steel wool and brush will just hurt the materials. Avoid scratches and use the
Kitchen Cleaner Spray
.
The Kitchen Cleaner Spray
is formulated to emulsify dirt and grime seconds upon contact. It works on any surface without needing to brush or scrub, leaving no scratch to them.
Super Targeted Nano Technology
with a deep cleaning mechanism that will penetrate each dirt molecule, removing dirt from the surface of objects at a speed x5 times faster. Make your kitchen always shiny and fragrant.
Wait 30 seconds and gently wipe,
wash off the stain.