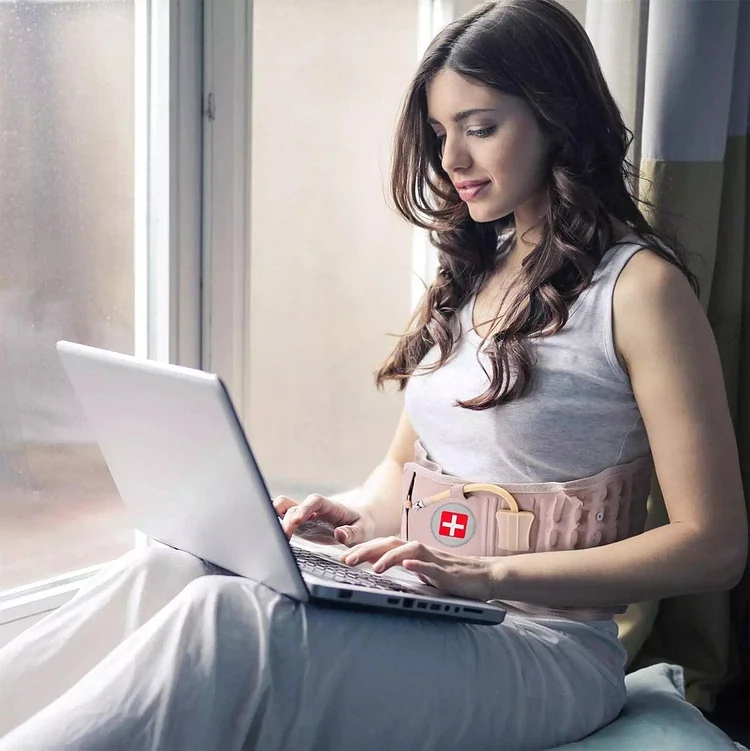 Relieve Pinched Nerves with Our
Proven

Method

back belt uses air pressure for spinal decompression to heal lower back pain. Improves spinal posture, relieves back pain within no time. By filling the belt with air, the belt stretches and relaxes the lower back. So, the damaged back discs receive the water and air required to heal faster.
---
Before inflate
Nerve is pinched and causing discomfort
---
After inflate
The belt relieves tension from joints and helps distribute it upwards
Hundreds of Satisfied Users Can't Be Wrong:
How Does It Work?
Lower Back Support Belt works by using gentle air pressure to lift and support the lower back, which can help to reduce pressure on the spinal discs and joints. By decompressing the lower back in this way, it can promote healing and reduce pain and discomfort.
Whether you're dealing with sciatica, herniated discs, or general back pain, our belt is designed to deliver relief, improve your posture, reduce pain and discomfort.
Easing pressure on lower back joints
Helps keep your spine elongated
Takes the load off your lower back
Join Hundreds of
Satisfied

Facebook Users:
Rated 4.97 by 14,627+ reviews
Your
Trusted

Ally in Back Pain Management

Lower Back Support Belt is designed to provide effective relief for a variety of conditions that cause back pain and discomfort. It's also great for people who experience discomfort due to prolonged sitting, overweight or obesity, or physical activity.
#1
Expert Recommendation
Decompression therapy costs over $4,000 per year. But now Distantlion offers the same quality treatment for so significantly cheaper price. Miss the energy you had 15 years ago? Imagine working in your garden or exercising every day without any pain. ,you can get back to optimal physical health.
Patients who experienced back pain, sciatica, and SI joint dysfunction reported experiencing pain relief instantly.
2 weeks of wearing the belt for 2 hours daily eliminated their sciatica.
Their back pain was completely resolved after 2 weeks of consistent use.
Why Lower Back Support Belt is the
Clear Choice?
Neurogena belt provides relief for many users in minutes, at a fraction of the cost of chiropractic treatments. Plus, you can wear it anytime, anywhere - whether you're at home, at work, or on the go. Best of all, our belt has no registered side effects, so you can rest easy knowing that you're making a safe choice for your health.


TRY IT TODAY. COMPLETELY
RISK-FREE
Free USA Shipping
100% Money-Back
Lifetime warranty
What's Included in the Package?
Package provides everything you need to relieve back pain, including a high-quality 43.3 inch belt, a belt pump and a extension for a customized fit that accommodates larger sizes, a user manual, and a special $14.99 valued gift as a thank you for choosing our belt.
Decompression belt (43.3 inch)
Belt Pump