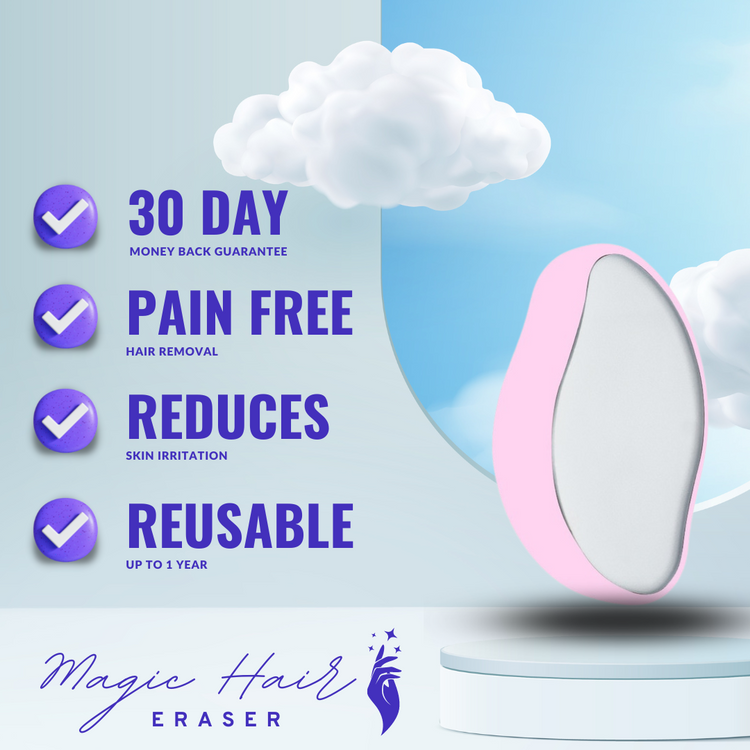 Tired of Traditional Methods Of Hair Removal?
Sick of getting razor burns, bumps or ingrown hairs after you shave? Or maybe you're tired of spending money on expensive laser sessions and waxing that just doesn't seem to work. If this sounds like you then we have the perfect product for you. If you have sensitive skin, the days of dealing with irritation, ingrown hairs, and cuts are over.


What Is The Magic Hair Eraser? 🤔
The Magic Hair Eraser will give you a shave so close and comfortable you'll think your beautician did it! Painless hair removal in a matter of minutes, the Magic Hair Eraser is your ultimate solution to unwanted hair. Gently rub it on your skin in a circular motion and the hair will be removed.
It exfoliates the surface of your skin removing any dead skin cells and leaving your skin feeling silky smooth. You know what that means right? No more pesky ingrown hairs.
You're not alone! Thousands of women and men experience skin irritation when shaving and waxing. Thousands of dollars wasted on expensive laser sessions and still no results to be seen. Which is why we created the Magic Hair Eraser. Designed to painlessly remove hair from the root in just a few circular motions, you'll be wishing you found this sooner!

Our Magic Hair Eraser is a fast, easy, and painless way to remove unwanted body hair. Simply rub it to your skin in circular motion for a hair-free body! It is designed to slow down hair growth in just a few sessions, so sit back and watch the magic happen! No refills or recharges required, it's ABS & tempered glass surface make the eraser reusable for up to 1 year before you need to replace it. Not only are you saving money but you're also contributing to an eco- friendly environment.
National Leader

Proudly Australian Owned 🇦🇺
SOME WORDS ABOUT GLORIA FROM WOMEN YOU FOLLOW
PURCHASED JANUARY 4, 2023 ⭐⭐⭐⭐⭐
"Now I hate reading but you should read this if you're on the fence just how I was. I really did not like shaving, since I was a young girl but we all know society sort of makes you shave. I'm not here to lecture you. I'm here to tell you, I rate Gloria a 4/5 because it actually does what's it's suppose to do. Gives me quick easy shaves and I don't need to worry over itchy skin. "
Samantha Taormina
PURCHASED MARCH 4, 2023 ⭐⭐⭐⭐⭐
"hi ya'll after about a month using this glass shaver i can say this: It works lol. And works really damn good too. Anytime I hear something can save me time, i'm always a sucker for it and let me tell you. Not only will you be saving time but the shaver won't nick the skin. I used to place loads of shave cream on my legs and still get nicks but with the hair eraser it glides right over the hair."
Kelly Strack
PURCHASED MAY 3, 2023 ⭐⭐⭐⭐⭐
"I'm from San Diego and the weather is getting a lot warmer over here. So, this means summer shorts and dresses are in full effect. Only this year I will be using this Crystal Hair Eraser to shave with. And so my legs are going to be bursting with shine in every photo I'm apart of."
Kristin Taenzer
You're gonna love it. But in case you don't...
We guarantee that our Crystal Hair Eraser will transform your shaving routine. That's why every purchase comes with a 30-day risk-free trial.

If you're not in love with your results, send it back for a refund. No questions asked.