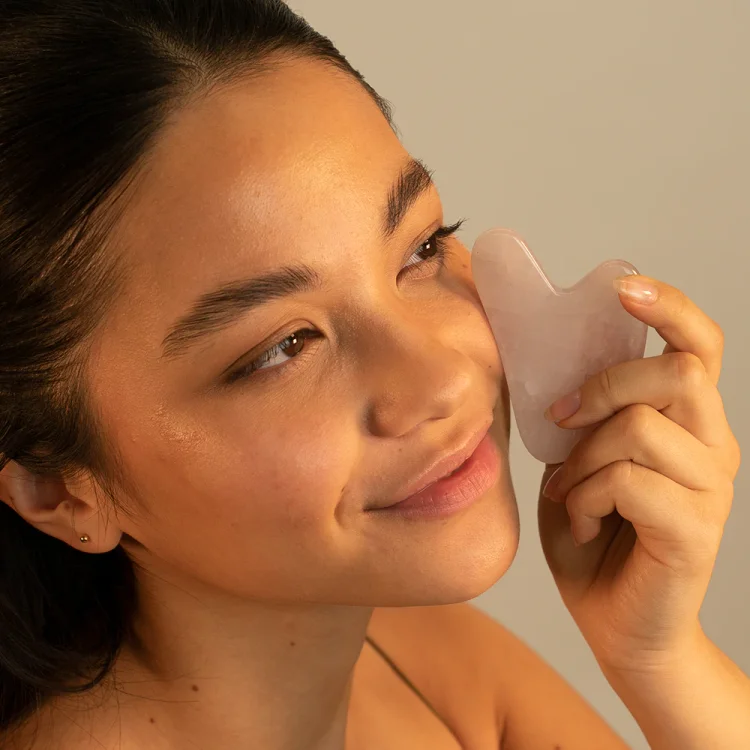 What is Gua Sha and does it actually work?
It turns out there is some truth in massaging the face to reduce puffiness and make facial features more defined.
According to this study, facial Gua Sha can assist with circulation in the face, and it is also agreed that the practice can massage muscles to relieve tension and can clear the sinuses/lymphatic system to reduce swelling.
A quality duo that uses the art of facial massage to de-puff, soothe, and raise the skin for a radiant glow.
BENEFITS:
Blood circulation is increased.

Reduces skin puffiness and inflammation.

Promotes lymphatic drainage.

Relieves face and jaw tensity.
Both tools complement your beauty routine and combine perfectly with a serum or facial oil for optimal absorption.
GUA SHA
For thousands of years, gua sha has been used in traditional chinese medicine. this rose quartz gua sha tool has been refined over centuries to have a firming and lifting impact on the skin.
How to use
STEP 1
Start with forehead. Glide tool in upward motion from the eyebrows to hairline.
STEP 2
Next move to cheeks & glide in an outward motion from nose to ear.
STEP 3
Move to the under-eye area with light pressure glide from the inner corner under brow towards the temple. Repeat.
STEP 4
Lastly, take tool on the jawline from the chin and glide up to the ear. Gently massage the tool at the end to help release any jaw tension.
These tools are made of Rose Quartz Crystal and therefore are delicate. Please be careful when using, they can break if mishandled or dropped!
Rose Quartz Face Roller
Our crystal facial roller is recommended to improve skin tone in so many ways that work for every skin type. If you're looking for anti-ageing benefits, this is a fantastic tool to add to your collection.
Similarly, if you're looking to improve skin tone and rid your body of toxins, this tool can offer you incredible benefits. Because our face roller can work with all kinds of serums and face creams and the pressure and tension used is dictated by you, even the most sensitive skin can benefit from its regular use.
How to use
STEP 1
Cleanse face, pat dry, then apply your favorite serum or facial oil.
STEP 2
Using roller, start at the center of the face and roll outwards in long strokes towards the lymph node drainage point near your temples.
STEP 3
Replicate this up and outward motion on the forehead and chin areas to de-puff.
STEP 4
Use the smaller end to target the eye area and repeat the outward long strokes following the lines of your brow bone and cheekbone.

For AM + PM use.
SKINSIDER TIPS:
Use the Rose Quartz Face and Body Roller to seal in and maximize benefits of facial oil or serum during your morning and evening skincare routine.
To clean your Rose Quartz Roller, wipe gently with a damp cloth and towel dry after each use.
Place the Rose Quartz Roller in refrigerator for an instant spa-level cooling experience.
Keep the Rose Quartz Roller at your desk for a quick, refreshing pick-me-up any time of the day.
🌎 WORLDWIDE SHIPPING ✈

Orders usually ship within 1-4 business day. During sales and peak times there may be an extra 1-2 day delay.And We deliver your parcel within 7–15 working days.
As soon as your package has left our warehouse, you will receive a confirmation by email. This confirmation contains a tracking number that you can use to find out where your package is.