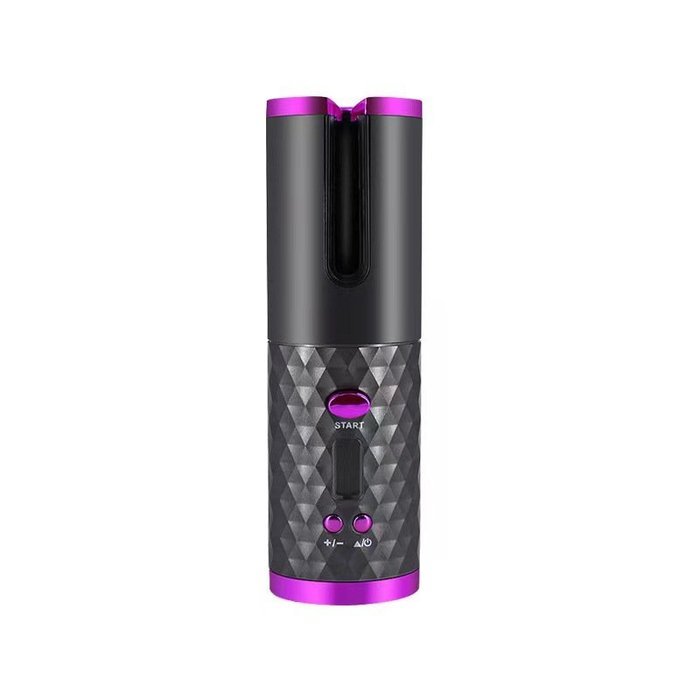 ${data.index + 1}/10
Get the

beautiful

curls you have always

dreamed

of -

within 8 seconds

The Wireless Flawless Curler wraps around your hair thanks to its unique patented technology and creates beautiful curls in just 8 seconds. With the built-in, powerful rechargeable battery, you'll get super-fast curls anytime, anywhere, without having to search for a power outlet.
The Flawless Wireless Curler is equipped with ceramic plates that keep your curls in place for 24 hours. The ceramic element in combination with the self-regulating temperature ensures that your curls remain fuzz-free and that your hair feels silky soft. The ceramic plates are gentle on your hair unlike other curling irons that damage the hair.
Your hair is always safe when curling and protected by the built-in smart sensor. This smart sensor automatically stops the curling process if you put too much hair in or if you do not place your hair correctly. This way, your hair will never get stuck or damaged. The revolutionary Wireless Flawless Curler™ is always safe to use!


WHY CUSTOMERS LOVE THE FLAWLESS WIRELESS CURLER:
✓ Easy to use - The wand automatically rotates and wraps the strands of hair in the Flawless Wireless Curler™. This way, your curls are ready in seconds!
✓ Smart heat control - The Flawless Wireless Curler™ has 6 heat settings with a maximum of 200°C in combination with 6 timer settings to prevent damage to your hair. Even if your hair is fine, brittle or colored, you can safely curl your hair.

✓ For all hair types - Suitable for different hair textures and lengths, thanks to the different temperatures and timers. You can create different waves and styles like a real pro.

✓ Convenient LCD screen - The large LCD screen allows you to easily read the temperature, curl direction, curl time and battery level.

✓ Wireless with powerful battery - The Wireless Flawless Curler™ is completely cordless and perfect for in the salon, in front of the mirror or on the go. You can curl your hair for up to 50 minutes before you need to recharge!

✓ Quickly ready for use - The Wireless Flawless Curler™ heats up to 150-200 degrees within 30 seconds! So you can use it quickly for the perfect curls!
✓ Perfect for on the go - The Wireless Flawless Curler™ is compact, lightweight and has a powerful battery! That's why it's the perfect addition to your travel suitcase!
The Flawless Curler automatic curling iron has two directions of rotation to easily work both sides of the head. With 30 seconds warm-up time, you'll be styled faster than ever! The Flawless Wireless Curler™ is completely wireless and curls your hair automatically! You can set the direction of the curls (left or right) as well as the temperature and the duration of the curling process.
The Flawless Wireless Curler has 6 temperature settings:

150°C/160°C/170°C/180°C/190°C/200°C

302°F/320°F/338°F/356°F/374°F/392°F
8-10 Seconds: for light curls
12-14

Seconds: for medium curls
16-18

Seconds: for strong curls
HOW CUSTOMERS EXPERIENCE THE FLAWLESS CURLER™
Customer experience from Lilly ⭐⭐⭐⭐⭐:
I have straight and lifeless hair. I feel self-conscious about it because my hair always lies flat on my head. I have tried many things, but since having my daughter, I don't have time to stand in front of the mirror for hours every morning trying to get more volume in my hair.

I bought this Flawless Wireless Curler because I saw the video on Pinterest. After receiving it, I immediately used the curler and it's amazing! The device does what it promises, I have beautiful curls and feel much happier and more confident! I really get it done in a few minutes in the morning because the curling iron automatically sucks in the hair and curls it super fast! The device is very easy to use and my hair feels very healthy and soft even after a few months of curling it on a daily basis. My hair has volume again and I have my newfound confidence! I really recommend the Flawless Wireless Curler to everyone.

Customer experience from Ariana ⭐⭐⭐⭐⭐:
I have a demanding job where I have a lot of contact with customers (even if it's by video call now). It is important for me to look good. I myself have straight hair that looks dull and this has always been my disadvantage. My makeup and clothes are good, but my hair never is. This made me feel insecure and luckily I bought the Flawless Curler. I'm usually very clumsy at curling, but now it's a breeze! I really do have great curls every day and it makes me feel so much more beautiful! The curls last all day and my hair is shiny. I'm glowing again, and especially during this time with the lockdowns, a little extra personal care does me good. My hair is soft, beautifully curly and looks great within 5 minutes every day. I am very happy with it!


OUR 100% SATISFACTION GUARANTEE

😄 99.3% of our customers recommend The Flawless Wireless Curler, which you get with a 14-day risk-free guarantee.

✅ If for any reason you do not have a positive experience, we will do EVERYTHING to make sure you are 100% satisfied with your purchase.

If you are not satisfied with the Flawless Wireless Curler, we will provide you with a suitable solution thanks to our satisfaction guarantee.

📞 We have 24/7/365 email support. Contact us if you need any help!