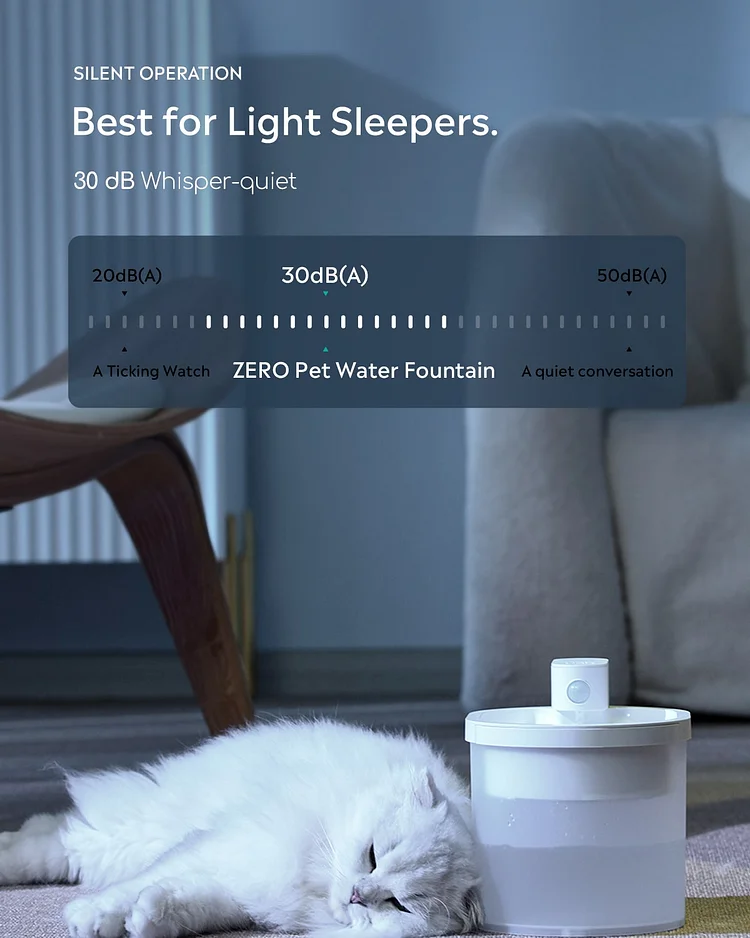 CORDLESS DESIGN
Place it anywhere your pets feel comfy drinking water
Thanks to its cordless design, there's no need to be plugged in at the wall. No trip hazards and no dangerous wires for your pet to play with. You can place this battery-operated fountain anywhere your cats feel comfy drinking water. And it's the perfect solution for multi-pet households.
HASSEL-FREE REFILL
Simplify pet parenthood
Extra-large tank
Who likes to spend time on a half-filled water bowl? With the 2L (67.6 OZ) storage tank of ZERO automatic cat water fountain, you won't have to.
Rechargeable with USB
Rechargeable with USB, no need to change battery frequently. That's how we make it safe for the planet. (Power adapter is not included in the package.)
6-LEVEL FILTRATION SYSTEM
Ensure your pets enjoy the

cleanest water possible.
Keep your pet safe from urinary diseases. This fountain contains KDF, quartz sand, coconut activated charcoal, and ion exchange resin, so it's perfect for cats and dogs that love to drink fresh-tasting water.
SILENT OPERATION
Best for light sleepers
Say goodbye to the constant whirring of the ordinary drinking fountain. With the ZERO cat water fountain's ultra-quiet performance, you can easily have a sound sleep, and your cat can take all the time he needs to drink his water. Plus, timid cats will never be deterred by the noise again!
WIDER DESIGN, FEWER PARTS
Make cleaning and reassembling a breeze
Antibacterial material
Preventing dirt buildup to ensure your feline friend has safer drinking water.
No-brainer maintenance
It allows you to take the water pump and other pieces apart for a more thorough cleaning.
SMART TECH
Two water flow modes
Your pet gets the best of both worlds: a source of water that is continuously flowing and free from outside contaminants.
MOTION-ACTIVATED MODE
It can simultaneously run when your pet comes within a 2-meter distance in a 120-degree area.
TIMER MODE
It provides your pet with cool, fresh water automatically every 15 minutes.
EXTERNAL WATER PUMP
Designed with security

in mind
It's easy to assemble, simple to maintain, and fully leak-proof to help protect your feline friends.
WIDE WATER TRAY
Whisker-relief
ZERO features a wide water tray, so your cat can have a relaxing water drinking experience.
ANTI-TIPPING BRACKET
Stable and tip-proof
It avoids tipping over and prevents messy water spills for hygienic drinking.